Gaddi Traditions
DRESSES
The Gaddies wear a simple traditional dress normally. On Special Occasions they wear full traditional dresses with full ornaments. Ladies wear mostly silver and gold. Gents wear mostly silver.The Gaddi man is identified by typical dress which consists of a chola and dora whereas the woman by luanchiri (a flared skirt). The women also adorn gold earrings, which are worn by men too. Men also wear white turban, which is a characteristic of the Gaddi dress. The people specially women are experts in weaving pattu and gardu (blankets) which used to be the prime clothe to make Gaddi dress.
Most of the hill women of Himachal are free of the restrictions of purdah and excessive modesty but the Gaddis or Gaddi women seem to be particularly outgoing, friendly and full of self-confidence to everyone. The only exception is that in the presence of any of their older male in-laws they immediately cover their heads. They wear a distinctive and attractive dress; the long, gathered skirts reminiscent of the clothes depicted in old wood carving and miniature pictures of the area. Over their head they wear a cloth, usually decorated with floral embroidery which they work themselves. They have large earrings, gold or silver, solid gold nose pieces, necklaces of amber, silver, gold and pendants with fine enamelling- often depicting Shiva and Parvati -or plain silver embossed pieces commemorating their ancestors. Their chins are patterned with a finely marked, circular tattoo, sometimes their hands and arms too. Some wear a coat-dress of white homespun tweed down to the ground, the lapels decorated with an embroidered flower. The more fashionable version is a velvet blouse with broad cuffs, joined to a very full skirt, reaching the ground, of colourful chintz. It takes twelve yards of cloth and is forty four feet at the hem which is lined with a contrasting colour and stitched round and round many times. Whatever the style of the chaura, dress, it is waisted with the dhora or woollen belt. The long chaura is cumbersome to walk in, they often have to hitch it up. But a traditional Gaddini does not like to be seen out and about without it, though at home she often strips down to the Punjabi- style salwar and kameez, pyjamas and long overshirt, which she wears underneath. On the end of her plait, on the blouse fastening, and often pinned on the shoulder too, are the circular mirror medallions, decorated with buttons and beads' that Gaddinis make and often give each other as expressions of affection.

» Dresses and Ornaments in Detail

LIVING STYLE
The community is mostly non-vegetarian but they mostly take the meat of goat, sheep and chicken. Families, who keep poultry, also take eggs. Their staple food consists of makki-ki-roti and occasionally wheat chapatti with mah and rongi (pulses). Children take goat milk, whereas elders use milk in tea. Occasionally lassi (curd milk) is also taken. They also make moderate use of vegetables, including roots and tubers, and fruits. Mustard oil is the usual cooking medium. People are very fond of sur (home made alcoholic drink) which is taken on occasions. Women consume it only on festive and social occasions. They also smoke tobacco in hukka, which forms a part of their daily sittings. Their special madira (liquor) along with a sweet preparation is a must on all social and festive occasions. They usually spend plenty of time to sit on the verandah or on the stone balustrade and gently smoke a hookah and chat. Each Gaddi group is largely an endogamous. Each section is further subdivided into a number of exogamous gotras which are of two types the anderla (or the rishi gotra) and baherla (or the territorial gotra) denoting the place of origin Gotra. Rajput Gaddis continue to write 'Singh' as their surname; which indicates their Rajput origin. The communities perceive its superiority and are regarded as high in social hierarchy and the fact is acknowledged by all neighboring communities. The Rajput, Rathi and Khatri communities align themselves with the Kshatriyas (Hindus).

MARRIAGES
There is no restriction on anyone marrying within the village provided gotra exogamy is maintained and that there is no common relative from the Father's or Mother's side up to three generations in the family one is marrying into. Restrictions exist in marrying into the families in which a sister or a daughter has been married with the exception in cases of economically poor families, where marriage by exchange is practiced.Marriage rituals are performed at the bride's residence, including kanyadaan or sanklap and pradikshna or char lavi (walking round the fire four times), with the bridal knot having been tied to the bride and the groom. A feast is also arranged by the bride's parents. The nuptial ceremony is performed at the groom's residence. Hypergamy and consanguineous marriages are not permitted, where, levirate and sororate permitted. Traditionally child marriage followed by gaona was practiced, but now adults' marriages are practiced at the age of 16 to 25 for girls and boys respectively. Among the various modes of acquiring mates, byah (wedding) is the most common the other forms being batta-satta, ghar-javantri, bariana and jhind-phunk. Monogamy is the general rule, with polygene is resorted to in exceptional cases, where the first lare is unable to give the family an heir. The usual symbol for a married woman is a nose ring and a choora, but this is not being strictly adhered to these days. Reet or lag was prevalent, which traditionally consisted of giving of at least 60 silver coins, but today it has been replaced by voluntary dowry given in kind, and depends on the economic status of the person. Residence is usually patrilocal, but there is a tendency nowadays to separate soon after marriage due to various reasons. Divorce is permitted and can be initiated by the aggrieved party on grounds of infidelity and incompatibility of mature, with socio-judicial approval. A divorcee is compensated by way of returning the marriage expenses. Children are normally the liability of the father in divorce cases, but in the event a divorcee woman wants to take them she can do so if the divorcee husband also desires the same. Khewat (divorcee remarriage) can however take place. Widow marriage is also permitted with either the husband's elder or younger brother and so is widower remarriage.

Video Clip on Right - Women Dance in a Gaddi Marriage
The gaddi marriage ceremonies are not only interestingly fascinating but also are very elaborate and peculiar. Marriages are usually attended by large number of invitees which includes even distant relatives, Gotries(same clan), friends and neighbours. Traditionally gotries also participate in performing the marriage ceremony rituals. Gaddis show great enthusiasm and togetherness during marriages.

The Gaddi marriage ceremonies details can be classified as below:
» Gaddi Marriage and related photos


FAMILIES/TRADITIONS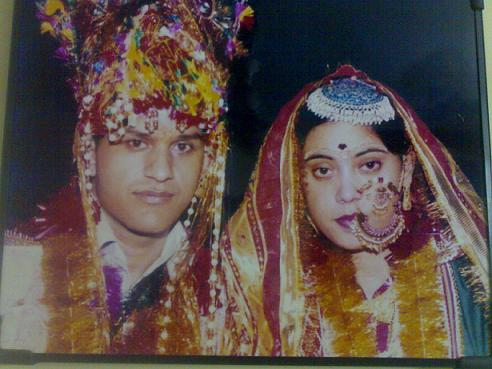 The family is of joint type, with father, mother unmarried and married sons and daughter and their children living in the same house. The interpersonal relations in the family are that of love, cordiality and mutual respect. The head of the family is the eldest male member and commands great respect. His decision on all family matters is final, which is usually arrived at after taking all factors into account. Conflict and confrontation never comes up but if ever occurs, it is due to the checking of freedom of youngsters and on property matters. Avoidance is observed between a woman and her husband's elder male relatives for about a year after marriage, after which it is not strictly observed. Joining relationship exists between a man, his wife and their younger male and female relatives. The inheritance of property is in the male line according to the locally recognized mode of inheritance known as chundaband and mundaband. According to the former, the property at the first instance is divided into the number of wives and subsequently each share is further sub- divided according to the number of sons. According to the letter, all sons, legal or illegal, inherit the father's property equally. Children on being taken by the divorced mother lose right to their biological father's property; but can inherit on returning to their father or can share the father's property in the event of their mother getting remarried. Gaddis go as far as having to erect stones to quieten the spirits of childless couples who disturb others' sleep. Women had no right to inheritance as per the traditional old social laws. Her social position is regarded as equal to that of the husband. She works equally with her husband in agricultural work expect for pouching. She is also responsible for the collection of fuel and fodder, both for immediate use and for storing them for use in winter months. She traditionally did not work outside the four walls of the house but recently the educated girls have taken up jobs in various occupations and are working outside the house and adding to their family income. They also take part in all social, religious and ritual activities. Though girls' participation was limited traditionally to the casting to votes in elections, today they have started becoming more active and some have been nominated and members at the Block level. In addition to all her work outside the house, she also attends to all the household chores, which include cooking food and looking after the children. In spite of the tremendous role of women as an indispensable part of the Gaddi economy, they do not have any decision making powers in family matters, though they provide opinion/thoughts and do manage the family expenditure.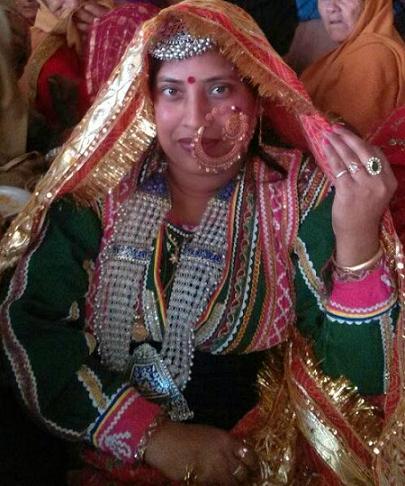 Restrictions on the movement on the enceinte women exist. The Kailubir is propitiated for the safe delivery of the child. Sutak is observed for a period of 11 days till which time all auspicious ceremonies are deferred. The mother is also not allowed to do any household work until shuddhi takes place. Six months after the birth of a child Kirpu or sugru is celebrated, which a ceremony is observed jointly for naming and cereal- taking. This is followed by jattu ceremony, which is celebrated on the third, fifth or the seventh year.
The dead are cremated, with the last rites being performed by the eldest male member. The mortal remains are then collected and either taken to Haridwar in Ganges or thrown into any river. The house is considered and polluted for a period of 13 days; the rituals connected with the dead are observed at chha-mah (six month), barhi (twelve months) and chobarhi (four years) after the death. Ancestors are worshipped annually during the days of shradh.
For solving family disputes, caste of theft and for maintenance of traditional norms the people of the community have their traditional bhaichara Panchayat, which is headed by a set of people who act as the jury and who are elected by general consensus. The guilty are punished by social boycott, or fine in cash or kind, depending on the gravity of the crime. Though the Gram Panchayat has come up after independence for exercising social control, planning and implementing welfare and development activities, yet people have greater faith in their traditional panchayats.

FAITHS
The community professes Hinduism, with emphasis on the worship of Lord Shiva and faith in Shakti cults. This land is called Shiv Bhumi. They are basically Hindus by religion and have very staunch belief in the gods. In fact one would find every household would have its own family temple in the courtyard. In fact every serious illness or special occasions are marked by a 'Jatra' or a pilgrimage to distant temples on the great heights of the Himalayas.They also have faith in Kailu Bir, Nag Deota, Khetra pal and Bambir, Each being a presiding power over natural resources. Ancestor are worshipped and propitiated as family Deities for the welfare of the family. Sacred specialists are invited for performing family rituals.

BIRTH AND LAST RITUALS
Gaddis attach importance to giving birth to a child by a married woman soon after the marriage. The birth of a male child is also considered necessary due to a variety of reasons. They consider girls as the property of some other house who go to their husbands house after marriage. Son is also considered essential for performing all the rituals after death of his parents. Male child is also preferred and desired as he can help his parents in agricultural operations and can look-after them in old age. Various death rites are performed by the son only and this necessitates the, birth of a male child. Then the birth of a male child is considered good as he continues the generations of a man, and keeps the names of his forefathers alive.
»Birth and Last Rituals Detail
The birth of children take place unabated as used to neither believe nor practice the artificial methods of birth control.For past few decades Gaddis have also adopted modern methods of family planning like other communiites.On very rare occassions, they resort to abortion and that too with the help of herbs and indigenous methods.