Traditional practices adopted by Gaddi Shepherds
Gaddis sometime consider shepherding as their dharma given to them by Lord Shiva. But it is not just that that makes them follow their ancestors' migratory life. Nor is it a love of the unique life. It is the prosperity that the sheep and goats bring -the former largely from wool, the latter from meat. If the Gaddis lived solely from the cultivation of those tiny strips of terracing there would not be so many newly built houses on the opposite hill, shops filled with shoes, cloth, and stuff suchlike, nor women laden with jewellery, nor substantial land owned by them in Kangra. And have comparative prosperity and with their travelling habits, combined with a pride in their homeland and culture. They have have the outgoing and friendly manner that make life such a pleasure.
The indigenous resource management found in Bharmour/Pangi involving very limited external inputs, developed by gaddi shepherds in difficult and isolated hilly terrain, is an example in itself.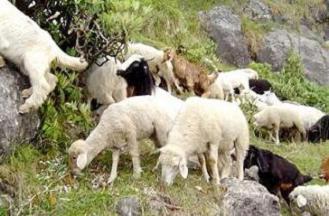 This resource use is still in vogue, in the areas ranging from alpine pastures down to the foothills, and has evolved over generations under to meet the fodder requirements. This agro-pastoral resource use/adaptation is an example of sustenance and sustainability. Crossing high passes without any forecasting device and the timely return for agricultural operations The penning practice for securing grazing facilities and support (food etc.) from other cultivators, involves exchange rate negotiation. Similarly, those villagers who own relatively smaller number of sheep/goats hand over their animals to 'puhals' for grazing them nominal charges after due negotiations and duties are shared.

Some techniques that have been perfected by the gaddis may be summarised as:
Their dedication emanates from their religious and cultural orientation centered around Lord Shiva. Their strong engrained attachment to different deities and Lord Shiva helps them face all risks and challenges which are an integral part of the Gaddi lifestyle. Sacrifice of goats is still practised.

Gaddi rituals and customs to a great extent have also been influenced by sheep/goats. They refer to their flocks as 'dhan' which is a synonym of wealth.

Isolation for a considerable part of the year, has led them to develop their own system of medicine for curing common ailments.

Isolation, prevalence of small terrace lands, single growing season, requirement of low technological and other input, high nutritional value and easy storage, dictates that cultivation of coarse cereals - millets (mostly by females) be undertaken. The elderly and a few youngsters occupy themselves with wool weaving especially during winter.

Gaddis now construct houses at two places viz. one in high altitude areas (Bharmour area) and the other in the low altitude areas (i.e. Palampur, Nurpur, Baijnath, Kangra and other nearby areas). They migrate to the foot hills during winters with family and flock, and cultivate lands there and return to the upper areas during summer.

Gaddi sheep are best suited to the challenges and adventures posed by the system. They can walk continuously for miles together, traverse difficult terrain and can pass snow peaks without any significant damage. They are used as 'beasts of burden' in trade and are employed for carrying loads to difficult and inaccessible areas.

Gaddi dogs (sheep dogs), are reputed for their bravery as watch dogs. They continuously move with the flock acting as an effective measure against theft and attack of predators.
The strong bondage between the members of the Gaddi tribe is unique, since they have to depend on each other for survival. Their adaptation to the hardships and diversity of the migratorial grazing system brings into focus the inherent sustainability element. Emerging changes, no doubt, are exerting great pressure ,but proper management mechanism will help in the sustainable functioning of the system which enjoys the advantages of inherent soundness and emotional attachments.