Background - Origin Overview
Per traditions their origin goes to those Hindus who took refuge in the western Himalayan mountain ranges to protect themselves from invasions,war and religious persecutions in the plains(Punjab) during and pre-Moghul period. It has been a long journey, since the time of its historical migration from the Central Asia, Rajasthan, Gujarat, Western Punjab and some other parts of the country to the remote mountains to rule,capture the land (Kshetras),establish Monastries (Goasthas) in ancient times, in search of peace in middle historical period and escape the persecution and bigotry practiced by the then Mughal rules.From its self-contented, semi- pastoral lifestyle, the community is striving to cope up with the fast changing realities of the present day 's socio-economic environment.The rich cultural heritage is manifested in its folklore, costume, jewellery and lifestyle.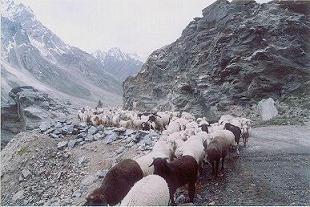 Gaddis have become a tribe by circumstance and not due to any particular natural calamity and are called a tribe to uplift their social and economic conditions due to hardship faced in their living conditons. Gaddi is a generic term which includes the Brahmins,the Rajputs,the Thakurs,the Khatris and many more. Due to hilly terrain there is less agricultural land so they had adopted main occupation by rearing sheep and goats in the surrounding green wild pastures.
Due to heavy snowfall in winters majority of these people migrate with their flocks of sheep and goats to the lower hills in the districts Kangra,Chamba,Mandi,Bilaspur and Hamirpur in Himachal Pradesh and Gurdaspur,Hoshiarpur in Punjab, in search of pastures. Some Gaddis have acquired permanent grazing rights in the places of their migration. Some of them graze in Sirmour district and few of them even in Gharwal region of Uttranchal state. Some of them have purchased land in the places of their winter stay and have engaged themselves in cultivation and moved permanently for generations. During migration years-after-year has resulted in adopting better ways of life.
Himachal is the abode of snow and Gabdika is the cultural heritage of the Gaddi community. This culturally rich community live in the Himalayan mountain ranges concentrated in Bharmour Tehsil(Sub Division) of Chamba, parts of Kangra (Dharamshala, Palampur, Baijnath dominantly), Mandi district in Himachal Pradesh and in parts of Jammu & Kashmir, northern states in India. The community occupies the inaccessible, inhospitable terrain in between the Pir-Panjal and Dhauladhar mountain ranges, between Ravi and Chenab rivers. It is a high altitude area and remains cut off most of the time due to heavy snowfall in winter.The area has thick and dense forest with low rainfall and low humidity.
Gabdika is an endeavor to maintain and preserve much valued age old Gaddi Community culture and traditions, that adds to Indian-values as a unity-diversity nation. Typically nomadic people but now have settled in places still preserving their original folk-culture.They have annual fairs and festivals which they celebrate with music and dancing. The community's traditions and culture add colors to beautiful hill state of Himachal Pradesh. They have great faith in God and Goddesses especially lord Shiva. The word Gaddi is a generic name and it includes all sects of Hindu society. The language (dialect) spoken within the community is Gaddi. Tankri was the script used by the old people. In general however colloquial Hindi is spoken whereas Devanagari is used as a script.There is no unanimity of the views from where Gaddis migrated to this hill state. Gaddi shepherds are not nomads anymore. They have homes, substantial village houses, and they own land which they or their family cultivate.