Grazing in Highlands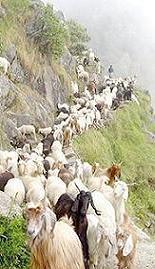 'The Gaddis feed their flocks
             The Gaddis offer incenses (to Lord Shiva)
             To the Gaddis He (Shiva) gives sheep
             And to the Gaddinis beauty' 
            
A gust of wind sweeps past lush green terraced wheat fields, a Gaddi sits there measuring the weight it carries to force a change of season; the wind hurries up the alpine slopes, a Gaddi sits there on a craggy rock guessing which way his heard would rush on hearing the swirling clouds roar; the wind turns icy as it meets the mighty Dhauladhars, a Gaddi is still there rushing down the crevasses, a little lamb in hands; at 16,000 feet the wind falls flat spreading a veil of eerie silence, a Gaddi tip-toes through it, flute in hand; the wind rushes down the nude slopes, a Gaddi keeps pace to reach home, a bonfire lit with ambers from the hearth that keeps his family warm miles away; the wind has a message to be delivered up in a village, a Gaddi sits there to take the first hint - their flock is safe and so is the tribe.
But that was when the world was not yet a global village… though the Gaddi village is still there, the Gaddi himself fears getting lost.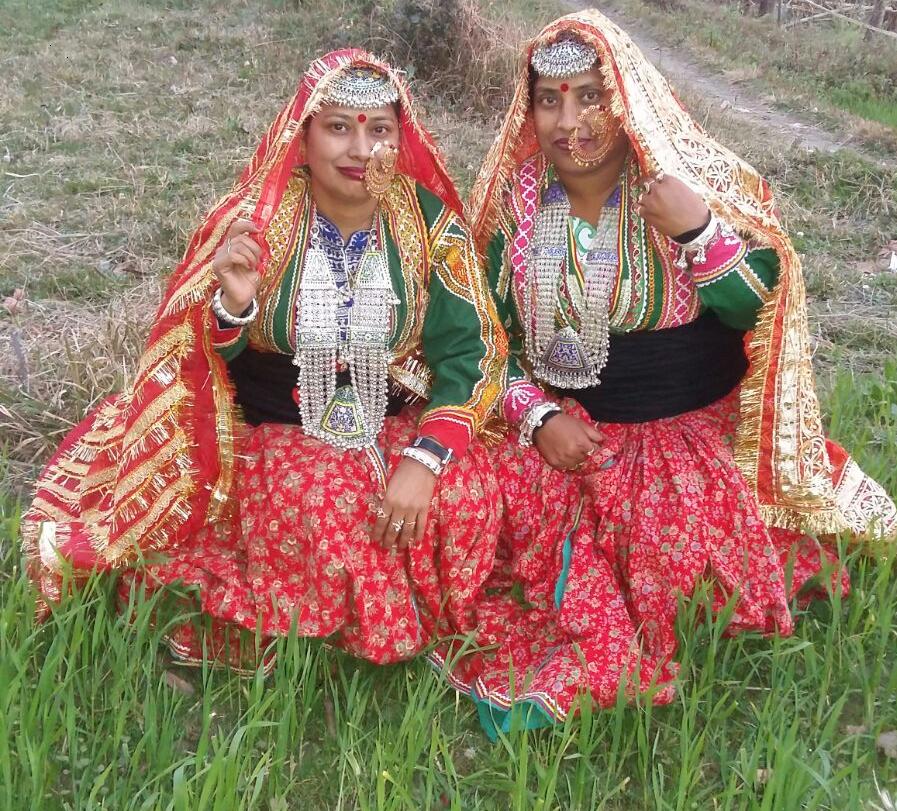 Gaddi Sisters in traditional dress ready for Chhak (pre-wedding) ceremony - Palampur, India

The Gaddi community, living primarily on either sides of the Dhauladhar mountain range in Himachal Pradesh, is among the most enigmatic anthropological groups inhabiting the Indian subcontinent. There is still lack of consensus even among the academicians regarding their origin, history, and even social life. Researchers have often described Gaddis as a clan of nomads, caste, a tribe of transhumance people, and even a distinct nationality. It's in fact a great irony that Gaddis have lived and supplemented the greater mountain culture of the region for centuries, and yet maintained a very distinct identity for themselves. A Gaddi shepherd has been roaming through the plains of Punjab, the terraced farms of lower Himachal as well as the icy deserts of inner Himalayas year after year, but hardly has a Gaddi village ever fallen on the path of an outsider, except the 'adventurous' ones. There are still Gaddi hamlets hidden in the shadows of the mighty mountains, but the same cannot be said about the Gaddis themselves anymore.

It has long been debated that "if the Gaddis were to abandon shepherding they would lose their status as a proud, free people, enjoying an affluence that is hard won but reliable…" The truth is that though only a fraction of them today live a pastoral life, a majority of them still remain romantically devoted to their hardy life, constrained by a force no less than Shiva's dharma.
HABITAT
Historically, Gaddis are known to have occupied one of the most inhospitable geographic regions in the world - highlands in the shadows of the mighty Dhauladhara and the Middle Himalayas - but over the last century they have also made lower areas in Himachal Pradesh their home, and have in fact ventured out across the world as global citizens, nevertheless maintaining their inherent ethnic identity.

In Himachal Pradesh, Gaddis are mainly settled in the Ravi and Budil river basins in Bharmaur, and scattered across Kangra, Chamba, Mandi and Kullu districts on the outer foothills of the Dhauladhar mountains and also on the fringes of the Pir Panjal ranges. Their habitat offers breathtaking landscapes coloured with hills, cliffs, streams, rivulets and even thick jungles. A sizable number of Gaddi families have land and assets on either side of the Dhauladhars and some families still follow the near ritualistic practice of migrating to Kangra valley from Bharmaur during winters.
GENERAL CHARACTER
Historically, Gaddis have been a transhumance tribe and, therefore, share much with similar communities found across the world. However, their inhospitable habitat and livelihood practices have made them evolve as a unique culture, though not really refined in the modern sense. In general, the outside world finds them honest, straight and god-fearing. With few needs and simple habits, the Gaddis for centuries led an unsophisticated, quiet happy and contended life, but all this is changing now. Modernity is touching their daily life as with any other human being on this planet, and therefore Gaddis have been adapting to the new ways of life, but not without resistance.
POPULATION
There is no actual record, whether authentic or otherwise, about the Gaddi population. Due to their migratory living in the past, no census gives any estimate regarding their population. However, a rough estimate can be pegged at around half a million.
DIALECT
The dialect used by Gaddis belongs to the Sanskrit Aryan families of northern dialects. However, there may be a small variation in the dialect with little local influence of other dialects here and there. Even illiterate Gaddis are polyglots, capable of conversing in Gaddi, Pahari and Hindi. They use their own dialect among themselves whereas while talking to other people they talk in Pahari/Kangri dialect. There is no script for the Gaddi dialect, but 'Devnagri' script can easily be adopted. The previous generations of Gaddis have also been known to have used Tankri as script.